By Nivedita

New Delhi–India is an infant in terms of the luxury market because what is on offer is quite limited, says Jean Cassegrain, CEO of French luxury house Longchamp.
He feels the tax and duty structure and lack of real estate options are "major hurdles" in his brand's foray in the country.
Longchamp opened its first flagship store for the Indian market last week in the capital.
The brand's luggage, handbags and accessories have a worldwide reputation for craftsmanship and quality-and this now extends to shoes and ready-to-wear collections.
In India, plans are to tap into the "big market" for luxury in the country.
"With over 1.3 billion people, obviously India is a big market. I think we needed to be here… It took us a little bit of time in particular because it is difficult to find good real estate locations for a luxury store in India," Cassegrain told IANS.
The brand has partnered with Do IT Retail, its master franchise for India. Cassegrain says that one of the challenges in coming to the country "was to identify a good partner that is able to navigate the complexities and difficulties of the Indian market".
"I think in particular there are two major hurdles; one is the tax and duty situation, which makes it a little bit difficult to import products into the country, and the second hurdle is real estate because the offer for luxury real estate in India is still quite limited and the options to open luxury stores are very limited.
"So we need to find good retail locations and if we do, I am confident that we can continue expanding the brand in the country," he added.
Now, with the country's first Longchamp flagship store at DLF Emporio in south Delhi, Cassegrain says the brand wants to give importance to emerging markets like India.
"We have had a lot of growth from emerging markets in the past years, in particular China and Chinese travellers around the world. A lot of growth in Southeast Asian countries like Thailand, Indonesia, Singapore and Malaysia is very strong and important for us.
"India is also an emerging market, it is still very much infant in terms of the luxury market because the luxury on offer in India is still quite limited, but I think people can buy only if products are available. So, the job of the brand is to make the products available.
"Now that we are in the market, I am confident that we can reach a level of success here as well as we did in some of the other places," Cassegrain said, adding India has been a huge influence in the brand's designs in the past.
"Some of our collections in the past have directly been inspired by Indian graphics and Indian prints; so yes it (India) did influence us," he said.
Longchamp, which was founded in Paris in 1948 by the CEO's grandfather, Jean Cassegrain, has over 300 exclusive stores worldwide.
Cassegrain says that the company wants to continue expanding the brand internationally, especially in new markets.
"We want to continue basing the brand on the concept of 'optimistic luxury' which is a type of luxury that is a little bit warmer, more colourful, more joyful than most of the European luxury brands. So the brand is warm, it's open, happy and we want to keep it this way," he said.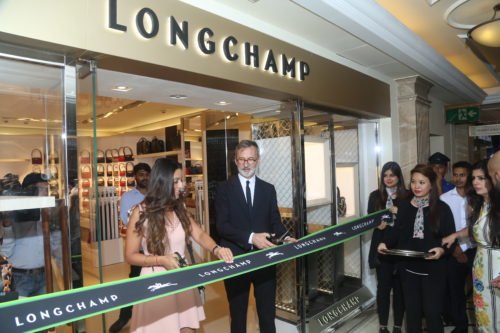 The brand has associated with Hollywood celebrities like Kate Moss for its new line. Is it looking at collaborating with an Indian face too?
"We don't want to be like in a programme where we are going to have a new collaboration every season just to feed the press.
"All the collaborations we have done have been very organic and real. Collaboration with India or an Indian designer or artist… It may happen one day but there is no particular plan at the moment," he said. (IANS)