Mumbai– Congratulating Prime Minister Narendra Modi for his recent demonetisation drive in the country, Mukesh Ambani, Chairman and Managing Director of Reliance Industries Limited, on Thursday said it is the strongest possible push to the growth of a digitally-enabled, optimal cash economy.
"This decision is an important step in his ongoing efforts to change the mindset of the people of India. Digitally-enabling transactions will help to create a fair, just, transparent and strong India and Indian economy," Ambani said in an address to stakeholders at RIL's Navi Mumbai office.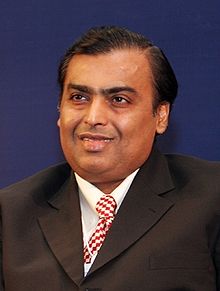 "It will bring unprecedented accountability at every level. I believe that the common people will be the biggest beneficiaries of this change. Every Indian will have a digital ATM in their hands, which they can operate whenever and wherever they want.
"No more will they have to travel and stand in queue for train tickets, bus tickets, movie tickets, to pay bills for utilities, or to deposit and withdraw money from banks. Time saved is money earned," he added.
On November 8, Modi announced the demonetisation of high-denomination Rs 500 and Rs 1,000 bank notes.
"Therefore, I am absolutely confident that a digitally-enabled economy will help India become stronger — and every Indian becomes even stronger," Ambani said.
Terming the demonetisation drive as a historic step, Ambani said: "With one single step, he has brought all the unproductive money into productive use. This will enhance credit flow in the economy and legitimate credit is the fuel that powers the engine of economic growth.
"So far, credit in our country has mostly been high value and low volume. Digital enablement has laid the groundwork for broad availability of low value, high volume credit. This will provide credit to our farmers, small shopkeepers, traders and daily-wage earners. Again, the biggest benefit of this goes to the ordinary Indian." (IANS)