By Kishori Sud

New Delhi– He's young, he's handsome and he wants to walk in his forefathers' footsteps. Or step into their shoes.
Twenty-nine-year old Thomas Archer Bata is carrying on the legacy of the famed name and wants to quickly bring the brick and mortar stores company into the digital world. The global Chief Marketing Officer says he aims to ensure that a Bata shoe would be available to anyone, anywhere in the country — and eventually the world.
"It's a big shift towards retail and digital. We believe firmly that distribution and the future will be heavily digitally-oriented. So, even if you are not going to the store to buy your shoe, you are going to be perhaps buying it online. The way the people are shopping, the brand needs to change," the fourth-generation Bata scion told IANS in an interview on the sidelines of the Bata fashion show here.
Bata has always been famous for its stores. They are present in almost every city in India, and in 75 other countries. The footwear multinational is run from its headquarters in Lausanne, Switzerland, but, largely, each country works in a decentralised manner. All that may change if the effort to go digital worldwide in three years works out.
But it won't be all digital, like e-commerce sites. Bata stores will still be around.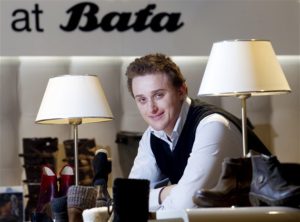 The company was started by his great-grandfather, Tomas Bata, in his native town called Zlin in Southeast Moravia, 122 years ago. And for generations, shoes have been synonymous with Bata. The designing of the shoes is still mostly done in Europe, but it is manufactured in Italy, India, Indonesia and China. Globally, women form almost two-thirds of its clients, though in India men's shoes outsell women's.
The man who studied political science at the University of Edinburgh in England talks with passion about the science of footwear. The challenge, for him, is to ensure shoes offer both comfort and trendy designs.
"There is a conflict that exists in footwear that if a shoe looks good, it has to be uncomfortable and vice versa… We are trying to bridge that gap. We have big product development teams trying to figure that out everyday — 'What is it about this shoe that makes it uncomfortable?' so that we don't have to compromise on either perceptions," he said.
There are other challenges, he says — of shodding individuals with small feet or those with large ones.
"I'm aware of that problem. It is not actually terribly that simple to resolve. The solution that we are looking at is having those kind of collections online. I am a size 46, which is a eleven and half (UK size). I have very big feet, so it's also quite difficult for me to buy shoes," Archer Bata said.
"The solution we are looking at is to have some articles in small sizes in stores and have a wider selection available online. Unfortunately, because of capacity in the stores, it is not feasible to have every article in every size. If you don't like it or have issues with the shoe you buy online, you can return it," says Archer Bata who was born in Toronto and lives in the UK and Switzerland.
In India, Bata started in 1932 as a small operation in Konnagar, near Kolkata. From that, it has grown into the largest footwear retailer having some 1,200 outlets across the nation. It also has around 30,000 dealers.
Archer Bata, has thrown a challenge at the Indian company — of trying to reach a turnover of $1 billion (Rs 6,500 crore) by 2020 in annual sales — from Rs 2,450 crore in March 2016. That appears to be a tall order, even for a man with a footsize of 11-and-a-half. (IANS)