By Mohammed Shafeeq

Hyderabad–Forbes has named him in the list of super achievers from Asia under the age of 30 but visually challenged Srikanth Bolla is in no mood to celebrate. His goal is to get into the Forbes list of richest persons — and he won't settle for anything less.
Such is the determination of the 25-year-old, who was born blind and overcame all adversities to become the first international blind student at the Massachusetts Institute of Technology (MIT) and now heads a Rs 30 crore ($4.6 million) company.
Visiting manufacturing plants in different locations in Telangana and Karnataka, attending business meetings and, in between, troubleshooting over the phone, the CEO of Bollant Industries is a busy man.
Equally fluent in different languages, he handles every issue with ease and shows incredible business acumen.
Born in a family of farmers in Machilipatnam in Andhra Pradesh, life has been one long struggle for him. After passing his Class 10 exam he chose the science stream for the plus-two stage but was not permitted to write the Joint Entrance Exam for IIT-aspirants as he was blind.
"I said when IIT doesn't want me, I don't want IIT either. Let me find the best opportunity in the world — better than IIT. MIT being the top school in the world, I always wanted to go there and I went there," said Srikanth, who has a B.Sc in management from MIT.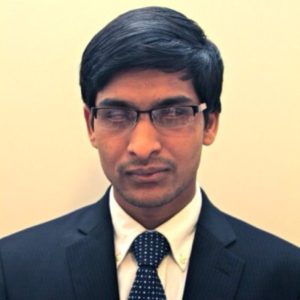 "I don't believe in honours or awards," Srikanth told IANS on being named among the Super Achievers under 30 from Asia.
"When I reach the goal of taking my company to an IPO — that is when I will celebrate. I will celebrate when the company reaches Rs 1,000 crore in valuation. Getting into the Forbes main list is my goal and that is when I will celebrate," said the confident CEO of a packaging and paper products company which is also creating employment opportunities for the differently-abled.
Srikanth is planning an IPO in two years. The company's turnover in 2016-17 was Rs 30 crore, up from Rs 5 crore in the previous fiscal.
"The company is growing at 20 percent a month since inception. This is a great joy for me because no company, including the unicorns of India, is growing at 20 percent a month."
He attributes this high growth to the company's consistent scaling and backward integration, and an over 90 per cent market share.
"Growth is a self-fulfilling prophecy, if you convince the world to give you cheap capital. That is what we were able to do. The cost of capital for cottage-level players is close to 50 per cent per annum. We always keep the capital cost under 15 per cent," he said.
The packaging and paper products market is highly fragmented but huge at $30 billion and he entered the segment to consolidate it by manufacturing quality products.
The company has seven manufacturing plants in Telangana and Karnataka, employing 600 people.
It recently acquired a sick paper mill in Hyderabad. Out of seven plants of the company, five were previously sick industries.
"Everybody goes and sets up a new plant. It takes one or two years for them to start. We don't do that. We go after sick industries and revive them within the span of one to two months. We can take their assets at 25 percent of their actual value, which is why we spend less amount of capital and the topline will be high in a short time."
The company has four directors, including co-founder Swarnalatha, angel investor Ravi Mantha and tech and infra entrepreneur S. Prabhakar Reddy. Its pool of investors include top angels like Ratan Tata, Satish Reddy of Reddy Laboratories, Srini Raju of People's Capital and Kiran Grandhi of GMR.
The company has so far raised Rs 2 crore in equity and Rs 10 crore in convertible notes.
"I struggled so much in my life that I don't want the younger generation and disabled people to suffer. I always wanted to come back and do something for India.
"We decided we will employ the underprivileged as the core of our workforce and empower them to be productive citizens of the country and that has been our social mission and it will be our mission for ever keeping our commercial aspect aside," he said.
Out of 600 people the company employs, 200 are disabled.
How does he look back on the journey so far?
"I think I have had a lovely journey so far, and I also had a rough journey. Because I had tough challenges I could achieve what I achieved. I don't see challenges as challenges, I see challenges as solutions, in a sense; when I see any problem, I see a solution rather than running away from the problem." (IANS)