Kolkata– The bitter pill of demonetisation for dessert lovers has turned into sweet delight in the eastern metropolis.
Scrapped Rs 500 and Rs 1,000 notes, that have made national and international headlines in the last one month, are now etched in sugar and chocolate forever, courtesy a Kolkata-based bakery's creative twist to the demonetisation move.
The bakery has come out with dark chocolate replicas of the scrapped notes. Priced at Rs 100 each, these thin chocolate slices will perhaps, offer some solace, after you have borne the brunt of queuing up in front of ATMs and laid hands on cash.
"The base is chocolate and the layout of the notes is painted with edible sugar paint. They were introduced right after demonetisation was announced," an official of Krazy for Chocolates, a bakery specialising in chocolates, pastries, customised cakes among others, told IANS.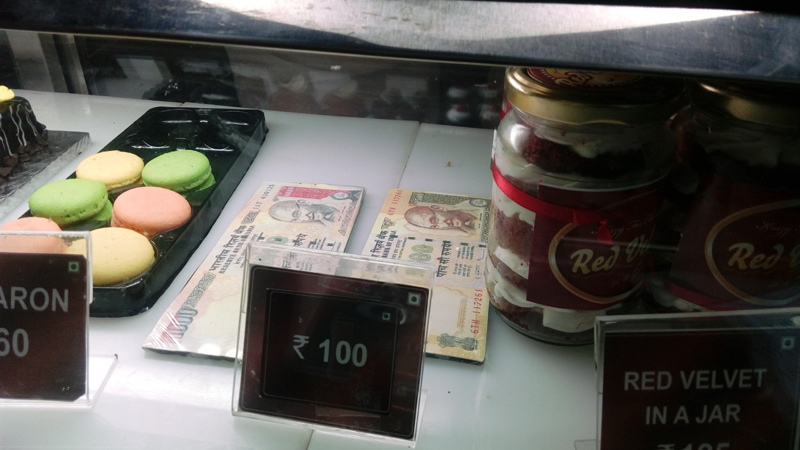 At its outlets across numerous city malls, salespersons have been assailed with questions over its edibility.
"Some people give it a second look because they think it's incredible. It has raised a lot of eyebrows and the curiosity is good for business," a salesperson manning a counter at City Centre 2 mall, told IANS.
According to Vinay Sethia from the bakery company, around 20 to 30 pieces of the chocolates are being sold on a daily basis since November.
"Since we customise our products, organisers of small parties and events have ordered these chocolates. They have become very popular. People are eager to have them on cakes. Someone also ordered chocolates resembling the new Rs 500 notes yesterday (on Monday). As long as they continue selling, we will produce them," Sethia told IANS.