New Delhi– As equity markets became jittery with Republican Donald Trump being elected the 45th President of the US on Wednesday, investors found safe haven in gold, triggering a spike in prices.
"Gold prices have been fluctuating globally between $1,270-$1,330 per ounce since last evening. Investors' have a negative psyche about Trump winning the elections. They feel Trump will take dynamic decisions that will adversely impact businesses and there will be lot of disturbances. Hence investors feel gold is a safe haven to park their money," Rahul Gupta, Director, P.P. Jewellers and Diamonds, told IANS.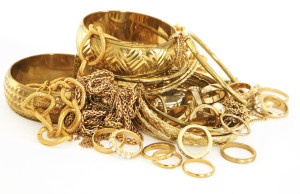 A key Indian equity index, the 30-share sensitive index (Sensex) of the BSE, crashed 1,688 points, or 6.12 per cent, in early trade on Wednesday.
The surprise victory of Trump, 70, defied most predictions. The billionaire thwarted Democrat Hillary Clinton's dream to be the first US female President of America.
Trump won with 288 electoral votes compared to Clinton's 215. The winner needed 270 out of 438 total electoral votes to control the White House.
"It was on expected lines that gold prices will surge if Donald Trump wins. Investors are not too confident about Trump's economic policies," said Bachhraj Bamalwa, Director, All India Gems and Jewellery Trade Federation.
"To win the hearts of the US people he may come out with certain policies which may impact business, investors feel," Bamalwa told IANS.
Globally, gold price was hovering around $1,268 per ounce around 6 a.m. India time, which then soared to $1,338 per ounce between 11-11.30 a.m.
In India, gold price was hovering around Rs 30,370 per 10 grams.
"Gold is well positioned as a portfolio diversifier in an era of uncertainty. The demand for gold looks positive," Somasundaram P.R., Managing Director India, World Gold Council told IANS.