PITTSBURGH –An IIT Bombay alumnus and software industry executive has been named President and Chief Operating Officer of ANSYS, Inc, a US firm that produces engineering simulation software used for testing product designs across a wide spectrum of industries including rockets and wearable technology.
ANSYS announced a leadership succession plan. James E. Cashman, who has served as ANSYS' Chief Executive Officer since 2000, will become Chairman of the Board of Directors effective January 1, 2017. Gopal, a technology industry veteran who has served as a member of the ANSYS Board since 2011, has been appointed President and Chief Operating Officer effective immediately and will continue to serve on the Board.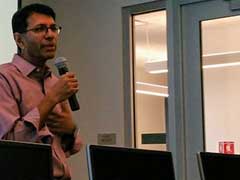 Gopal will become Chief Executive Officer on January 1, 2017. Ronald W. Hovsepian, who currently serves as Chairman of the ANSYS Board, will assume the role of Lead Independent Director as part of this transition.
Mr. Hovsepian said, "We are grateful to Jim for his remarkable leadership. He led ANSYS' transformation from a $50 million revenue company into the global market leader for simulation technology with nearly $1 billion in revenue, creating significant value for stockholders. On behalf of the entire Board, I thank Jim for his countless contributions and unwavering commitment to ANSYS. His decision to implement this leadership succession plan was made with much thought and consideration, and we appreciate him working with the entire Board to help identify his successor and facilitate a smooth transition. We all look forward to benefitting from his continued guidance, vision and expertise as Chairman."
Mr. Cashman said, "Over the past 20 years, we have grown ANSYS to become the world's leading engineering software provider thanks to our relentless focus on innovation and commitment to our customers. Today, ANSYS has the most talented employees in the industry, a best-in-class portfolio, more than 45,000 customers worldwide and a sound growth strategy to take us into the future. As we look to scale to $2 billion in revenues and beyond, I strongly believe that now is the right time to begin the transition to the next generation of leadership. Attracting Ajei, a technology industry veteran with an exceptional track record, is a huge win for ANSYS. I have come to know and admire Ajei as a fellow director, and I have no doubt that his outstanding leadership, unique perspective and appreciation for ANSYS' culture, people and organization make him the right choice to serve as our next leader during this exciting time."
Dr. Gopal is a 25-year industry veteran with extensive management and business development experience at large software and technology companies. He has held leadership roles at companies including Symantec, Hewlett-Packard, CA Technologies and IBM, and also brings start-up experience, having co-founded ReefEdge Networks. He joined Silver Lake in April 2013 as an operating partner.
Dr. Gopal's appointment as Mr. Cashman's successor follows an extensive search conducted by the ANSYS Board with the assistance of Heidrick & Struggles, a leading independent executive search firm. The search included a review of both internal and external candidates.
Mr. Hovsepian continued, "There is no better person than Ajei to lead ANSYS through this pivotal time in the Company's expansion. He brings a proven track record, expertise managing the scale and complexity of a global multi-billion dollar company and critical skills in software strategy, engineering, product management and development. Ajei has profound knowledge of our business and strategic direction, as well as significant financial discipline. We are excited to enter our next phase of growth under his leadership."
Dr. Gopal said, "I am honored by the opportunity to lead ANSYS. With an accelerating pace of innovation, ANSYS is on an exciting growth trajectory as it executes on its long-term plans. Jim's vision and tremendous leadership have set a high bar, and I am committed to building on our standard of excellence and pushing the boundaries of innovation to help customers solve their most complex design challenges. I look forward to working with Jim, the Board, our leadership team, employees and customers around the globe to continue our legacy and capture the vast market opportunity ahead to drive stockholder value."
Separately and unrelated to the leadership succession plan, ANSYS also announced today that Robert Kocis, Vice President, Worldwide Sales and Support will depart on October 1, 2016, to pursue another opportunity in the Managed Services industry. ANSYS has a deep bench of sales talent and the sales organization will report to Dr. Gopal in his capacity as President and COO, effective immediately.
Gopal, 54, joined the ANSYS Board in February 2011. He has been an operating partner at Silver Lake since April 2013. In 2016, Dr. Gopal was seconded from Silver Lake to serve as interim president and COO at Symantec, leading the company through the acquisition of Blue Coat and the recruitment of a permanent CEO. Prior to Silver Lake, he was senior vice president and general manager at Hewlett-Packard from 2011. Earlier, Dr. Gopal was executive vice president at CA Technologies, which he joined in 2006. From 2004 to 2006, he served as executive vice president and chief technology officer of Symantec. Until 2004, Dr. Gopal was with ReefEdge Networks, a company he co-founded in 2000. Before that, he worked at IBM from 1991 to 2000, initially at IBM Research, and later in IBM's Software Group. He began his career as a member of the technical staff at Bell Communications Research. Dr. Gopal has 23 U.S. patents to his name and has a doctorate in computer science from Cornell University and a bachelor's degree from the Indian Institute of Technology in Bombay.