Hyderabad– The Telangana government said on Friday that it has prepared draft NRI policy to address the problems faced by people who have migrated to other countries especially Gulf nations from the state in search of livelihood.
Minister for Industries and Information Technology K.T. Rama Rao, who also holds the portfolio of NRI affairs, on Friday said a meeting would be called on July 16 for consultation with various stakeholders over the draft policy.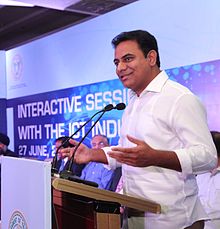 The minister said that all steps are being taken to ensure gullible youngsters, who wish to migrate to Gulf countries, are not cheated by middlemen. He made it clear that only those who migrate legally, with appropriate visas, will get necessary benefits, in case of an untoward incidents.
The minister gave away compensation cheque of Rs 40.15 lakh to the family of Narsaih, from Nizamabad district, who lost his life in Gulf.
Narsaiah's employer Jazeera Emirates has provided this compensation.
Rao was speaking at a special program organized by TOMCOM (Telangana Overseas Manpower Company Ltd).
He assured all help from the government to the Gulf migrants.
He gave away necessary documents and visas to 250 youngsters, who were trained and placed in five organizations in Dubai by TOMCOM.
This is the first batch of youngsters, who were recruited from the rural areas of Telangana. About 500 youngsters would be recruited as part of second batch soon.
The minister said that TOMCOM would be further expanded to play a proactive role by educating, skilling and training youngsters, who wish to migrate to the Gulf countries.
He also elaborated on the various development initiatives undertaken by the state government such as construction of irrigation projects, Mission Kakatiya, Mission Bhagiratha and TS-iPASS, to create employment opportunities locally, thereby reducing migration from Telangana.