Gandhinagar– "Symphony of Weaves", a fashion show curated and produced by IMG Reliance Industries Ltd on the opening day of Textiles India 2017 at Mahatma Mandir here on Friday, was a unique fashion presentation celebrating the story of Indian textiles in the form of exquisite innovations in craft and design.
Textiles India 2017 is positioned as the first ever global B2B textiles event in India, from June 30-July 2 bringing to the fore the inspiring vision of Prime Minister Narendra Modi – "From Farm to Fibre, Fibre to Factory, Factory to Fashion, Fashion to Foreign Exports". Textiles India aims to showcase the strength of the value chain in India.
The show presented a compelling story of the textiles of India, focusing on innovations in craft and design. It was the largest curated presentation of Indian textiles on the runway that unfolded the story of growth and development of the Indian textiles sector and its transformation to become a global power.
Inspired by the seven key notes of music that form the Sargam, a fundamental base for any tradition of music, the show celebrated textiles of India and showcased the entire spectrum through seven key segments covering Cottons, Silks, Wools, Embroidery, Hand-Dyed and Hand printed, Modern/Industrial and Futuristic Sustainable textiles of India.
Leading Indian designers have joined hands with master-craftsmen to showcase their work in heritage handlooms, handicrafts as well as modern and futuristic textiles. The textile panaroma spans across regions and states of North-East India, Gujarat, Maharashtra, Jharkhand, Karnataka, Andhra Pradesh, Telangana, Assam and many more.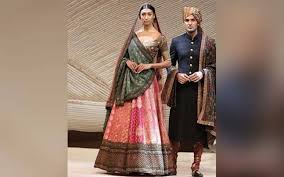 The fashion show featured the designs from a combination of 31 established and emerging designers and master craftsmen/weavers from across different textile traditions, languages and states of India.
The story of the evolution of cottons in India was showcased by designers such as Anavila Misra, mastercraftsmen Chaman Siju from Kutch and Richana Khumanthem from Manipur as well as Wendell Rodricks for Goa Kunbi Cotton Handlooms. The rich legacy of Indian silk included Banarasi Silks by Sanjay Garg, Meghalaya Ryndia Silk by Daniel Syiem and Tussar handlooms from Jharkhand by Shruti Sancheti. Rahul Misra and Rajesh Pratap Singh among others showcased the story of evolution of Wool.
The embroidery category was presented by eminent designers such as Anamika Khanna, Anita Dongre, Manish Malhotra, Ritu Kumar, Rohit Bal, Sabyasachi, Tarun Tahiliani among others. Young gen next label Poochki collaborated with Master craftsman Berulal Chippa from Rajasthan to showcase Bagru handicraft and Vineet Rahul collaborated with Mohammed Yusuf Khatri from Bagh, Madhya Pradesh to showcase Bagh handicrafts in high end fashion. Gaurav Gupta and Pankaj & Nidhi presented modern textiles and in the final segment Abraham & Thakore, Amit Aggarwal, Hemang Agrawal and Manish Arora presented modern and futuristic textiles that included man-made fibres, metal yarns and sustainable recycled fabrics.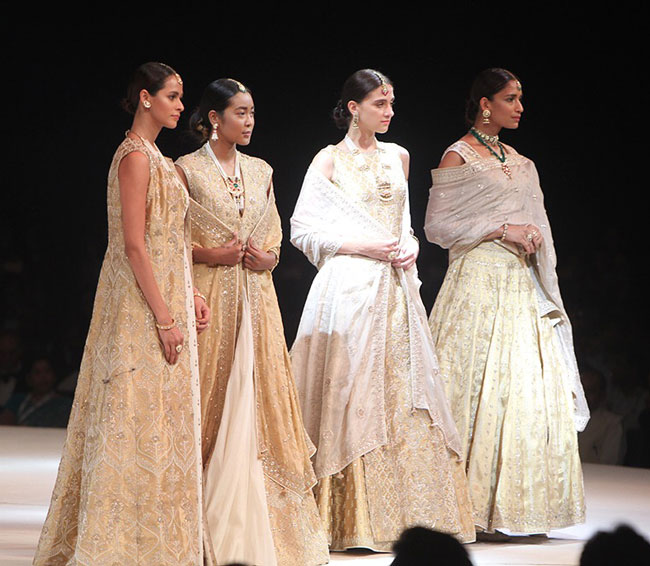 Talking about how such shows are going to bridge the gap between designers, craftspeople and government, Dongre told IANS: "It's for the first time that such a large initiative is done by the textile industry that everyone has come together to showcase what they got or are known for. Our textile industry is very versatile and no other country has this versatile textile industry like ours, so it's good to see so many foreign buyers coming under one roof."
Jaspreet Chandok, Vice-President & Head- Fashion, IMG Reliance said the show was an extension of what they are doing at Lakme Fashion Week (LFW- a bi-annual show organized by IMG Reliance).
"We have such a strong designing linkages on board that they come all the way to Gandhinagar to support us. This shows how much they support us at IMG Reliance."
Giving reference of a craftsman, he added: "Chaman Siju, a craftsman from Kutch who we discovered and put on Lakme Fashion Week stage on the Artisans of Kutch show that we did six months back, got the felicitation from Prime Minister today."
The lavish set had a circular ramp and a huge spindle as the centre piece. The backdrop installation for the show was inspired by the handloom jacquard attachments for punching pattern cards that is considered as an initial version of the modern computer.
The Symphony of Weaves fashion show was attended by Union Minister of Textiles Smriti Irani, Ajay Tamta, Minister of State for Textiles, and Industry Commissioner of Gujarat Mamta Verma. (IANS)