By Porisma P. Gogoi
Mumbai– The key Indian equity indices — the Sensex and the Nifty50 — dived into the bearish zone and settled at their five-week lows, as global cues, a bulk of quarterly earnings and substantial amount of foreign fund outflows urged investors to book profits.
On a weekly basis, the 30-scrip Sensitive Index (Sensex) of the BSE lost 1,111.82 points or 3.44 per cent to close below the 32,000-mark at 31,213.59 points. The Sensex breached that level for the first time on July 13.
Meanwhile, the Nifty50 of the National Stock Exchange (NSE) closed at 9,710.80 points by shedding 355 points or 3.53 per cent. At one point on Friday, the Nifty50 fell below the psychologically important 9,700-mark, which was crossed for the first time on June 6.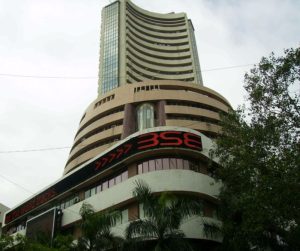 "Markets corrected sharply this week after five weeks of consecutive gains. The Nifty began correcting after touching a high of 10,088 on Monday Aug 7, 2017," Deepak Jasani, Head – Retail Research, HDFC Securities, told IANS.
"Sectorally, there were no gainers for the week. The top losers were the realty, PSU banks, pharma and media indices."
On the currency front, The the Indian rupee weakened by 55 paise to close the week at 64.13-14 to a US dollar from its previous week's close at 63.58-59.
According to Dhruv Desai, Director and Chief Operating Officer of Tradebulls, the entire week was on the "sell side" with the S&P BSE Sensex falling nearly 1,000 points in just nine trading sessions of August.
"The carnage was seen more in small and mid-cap space which fell 20-30 per cent in a matter of days after hitting record highs last month," Desai told IANS.
"Things turned cautious in the month of August when the Securities and Exchange Board of India (SEBI) on Monday placed trading curbs on 331 stocks of firms suspected to be shell companies."
On August 8, stock market regulator SEBI imposed trade restrictions on 331 firms which were suspected of being "shell companies". These securities were placed in suspended animation from the next day, as exchanges stated that the trade in these stocks would be permitted only once a month.
"Besides the spillover of the 'shell' shock, a flare-up in geopolitical tensions following North Korea's nuclear tests and dozens of quarterly earnings kept markets in a tizzy," said D.K. Aggarwal, Chairman and Managing Director, SMC Investments and Advisors.
"The sentiments in the market remained downbeat due to sustained capital outflows by foreign funds and retail investors on the domestic bourses. As a result, the Nifty fell below the 10,000-mark for the first time in two weeks," he added.
Provisional figures from the stock exchanges showed that foreign institutional investors sold stocks worth Rs 2,615.9 crore, while domestic institutional investors bought scrips worth Rs 4,498.43 crore during August 7-11.
Figures from the National Securities Depository (NSDL) revealed that foreign portfolio investors (FPIs) divested equities worth Rs 549.47 crore, or $85.76 million, during the week ended August 11.
The top weekly Sensex gainers were: Tata Steel (up 3.59 per cent at Rs 596.15), Infosys (up 0.24 per cent at Rs 987.75), and Wipro (up 0.21 per cent at Rs 289.90).
The losers were: Tata Motors (down 13.95 per cent at Rs 374.40), Tata Motors (DVR) (down 12.66 per cent at Rs 223.20), Sun Pharma (down 10.92 per cent at Rs 451.30), Dr. Reddy's Lab (down 10.37 per cent at Rs 2,011.35) and State Bank of India (down 8.12 per cent at Rs 280.65). (IANS)