Mumbai– Chief Minister Devendra Fadnavis on Friday inaugurated the first of the eco-friendly, state-of-the-art and hygienic toilet facilities set up by the Cyrus Poonawalla Group (CPG) here.
A total of 10 toilets will be built in the first phase of the Rs 1 billion CSR-cum-contribution initiative of the group, which is headed by CEO Adar C. Poonawalla.
The group will construct 80 toilets across the city.
The first toilet block, along with separate changing rooms for men and women, has come up at the Mumbai Police Headquarters near Crawford Market, with others coming up at Government Railway Police office in Naigaon, Railway Protection Force office on Grant Road and other locations.
Poonawalla said that after the beginning in Mumbai, the CPG plans similar ventures in all major cities including New Delhi, Kolkata, Chennai and others.
"We need more private participants to come forward and join hands in the 'Swachha Bharat Abhiyan' to make India garbage-free. The government is trying to make the country open-defecation free for which proper sanitation facilities, like these, are required on a large scale," Fadnavis said on the occasion.
Poonawalla assured that with today's beginning the CPG would provide modern and comfortable sanitation facilities for the railway and police personnel and more toilets would be constructed in Maharashtra and other states in phases.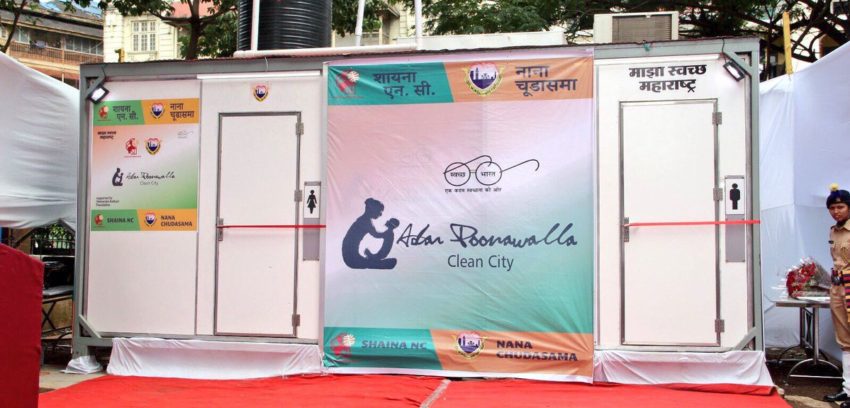 Good and hygienic sanitation facilities at workplaces for the people involved in heavy-duty jobs would provide them with a better and healthier environment which the CPG will attempt, he added.
Present on the occasion were several state ministers, Mumbai Police Commissioner Datta Padsalgikar, BJP national spokesperson Shaina NC and Bollywood actress Raveena Tandon among others.