Mumbai– Reliance Industries Chairman Mukesh Ambani on Saturday lauded Prime Minister Narendra Modi for his demonetisation move and digital drives, adding that India has the potential to be the leader in the 4th industrial revolution.
"Thanks to demonetisation, India has taken a big leap forward from a predominantly cash economy to a digitally enabled optimal cash economy. It has brought unproductive money into productive use," Ambani said while addressing the India Today Conclave.
"India today is great, India tomorrow will be fantastic," the richest man in the country told the gathering.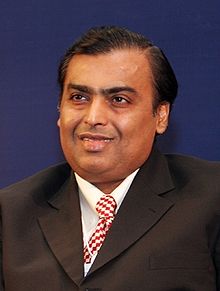 He said so far credit in the country had been high value and low volume, available only to a few people. "In the coming years based on your Aadhaar identity, it will be possible to get a loan on your mobile in just a few minutes," Ambani said.
India underwent a demonetisation drive from November 8 to December 30 of high-value Rs 500 and Rs 1,000 notes to cleanse the country of black money.
Asked about the Modi-led Bharatiya Janata Party's landslide victory in the recent Uttar Pradesh elections, despite the demonetisation drive which affected common people as well, Ambani said: "We are blessed to have a leader who not only understands the countrymen but also understands the world and technology."
Ambani said what impressed him most was when the prime minister visited the US (when Barack Obama was the US President) and at the dinner they only discussed how technology could benefit the poor people and help develop a country.
Ambani said the world is at the beginning of the fourth Industrial Revolution. "This is the convergence of the physical, digital and biological sciences that will enable humans to re-imagine, re-invent and re-engineer all aspects of life and living on this planet."
Mobile internet, cloud computing, artificial intelligence, robotics, nano-technology and genomics are the foundational technology of this revolution, he added.
"Technology is a great leveller. It recognises no caste, no creed, or religion. It provides equal access to all without prejudice or judgement," Ambani said.
He said India could not only participate in this industrial revolution but could have the opportunity to be the leader.
He charted out five reasons for it: "India is a very young nation with 63 per cent of its population under 35 years and can adapt technology faster.
"Secondly, India's historic lack of technology and digital infrastructure, is actually a boon in disguise. Not having any legacy technology means we can skip multiple generation of technology and directly embrace the next generation.
"Thirdly, as a nation India is well on its way to connecting all its citizens to the global internet."
"Fourthly India is a huge and open market. Unlike the large economy that are busy building walls India is fortunate to have the leadership and believe in connecting our nation to the world. Today is one of the most attractive destinations for global talent, technology and business.
"And finally we have the political vision, a leadership, determination and the ability to make India a technology leader."
Ambani said second Green Revolution in India is possible through digital revolution.
"We have to combine global technology with India's street smartness. That's an unbeatable combination. We always have to learn from the common man," he said
He also said that in the last 170 days, India had become the biggest data consumer in the world beating the US. He was perhaps alluding to the launch of Reliance Jio, which offered free talk time and data to consumers in September last year.
Ambani said through digitisation India can overcome the challenges in education. "Through Jio we are connecting some 58,000 colleges and schools. Once this is done, we'll have most digital enabled education system in the world."
Asked about his political ambition, Ambani said he does not have any desire in this regard. "I don't think politics is my strength," he answered.
Talking of creating money, Ambani said: "My father (Dhirubhai Ambani) used to tell me 'if you start anything just to make money, you are a fool. You will never make money and you will fail. You must start with a purpose, money is a by-product." (IANS)