Washington– Foreshadowing "Buy American" moves that could affect the largest market for Indian pharmaceutical companies, President Donald Trump told drug makers on Monday to bring back manufacturing to the United States.
"I want you to manufacture in the United States," he told leaders of seven major pharmaceutical companies. "I want you to move your companies back into the United States."
To facilitate this, he said: "We're going to be lowering taxes, we're going to be getting rid of regulations that are unnecessary."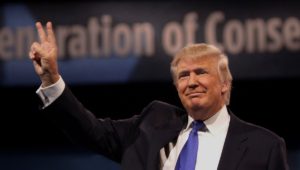 India exported $6 billion worth of drugs to the US in 2015 and restrictions on pharmaceutical imports and manufacturing abroad could impact the industry in India.
Trump also hinted at the possibility of ending a multi-layered pricing system for medicines by which rates are often set lower for drugs sold abroad than in the US.
"Our trade policy will prioritise that foreign countries pay their fair share for US manufactured drugs so our drug companies have greater financial resources to accelerate the development of new cures," he said. "And I think it's so important. Right now, it's very unfair what other countries are doing to us."
The meeting was part of a series of meetings he has been holding with leaders of different sectors to get them to increase jobs and investment in the US to further his campaign promises. The CEOs of Amgen, Novartis and Eli Lily were among those who attended.
Trump emphasised deregulation of the strict controls on marketing medicines in the US.
"We're going to be cutting regulations at a level nobody's ever seen before," he said. "And we're going to have tremendous protection for the people, maybe more protection."
He criticised the Food and Drug Administration's (FDA) approval process for new drugs saying that he was troubled that a terminally-ill patient could not get a vital medicine because of the approval delays.
An Indian American, Balaji Srinivasan, who is a technology and biotechnology entrepreneur and a critic of the functioning of the FDA, is among those being considered to head the agency.
"A lot of the companies have moved out, they don't make the drugs in our country any more," Trump said. "A lot of that has to do with regulation, a lot of it has to do with the fact that other countries take advantage of ous with their money and their money supply and devaluation."
Trump also took aim at big pharmaceutical companies over their pricing policies. "we have to get lower prices, we have to get even better innovation, he said.
For this he said that he would favour smaller companies. "I'll oppose anything that makes it harder for smaller, younger companies to take the risk of bringing their product to a vibrantly competitive market," he said. "That includes price-fixing by the biggest dog in the market, Medicare, which is what's happening. But we can increase competition and bidding wars, big time."
Medicare is the government health insurance programme for senior citizens. (IANS)