Dhaka–Decrying the tendency in India to "panic" about retail inflation numbers, Finance Minister Arun Jaitley on Wednesday said the NDA government has a better track record than previous ones in containing price rise.
"Can you have an economy where you panic at an inflation rate of 3.36 per cent? And that too at the period of peak monsoon when vegetable prices skyrocket," Jaitley said while responding to queries from reporters here.
"At that point of the year, when inflation is supposed to be at its highest, we have it well within the statutory 4 per cent that has been fixed," he said.
"Having inherited double-digit inflation from our predecessor (UPA) government, we have an excellent track record in this regard," the Finance Minister asserted.
Jaitley is currently on a two-day visit to Dhaka from Tuesday, during which an agreement on bilateral investment promotion and protection is likely to be signed. He will return home on Thursday.
Jaitley also lauded the RBI's monitoring of inflation in line with the mandate of its Monetary Policy Committee (MPC) to target a Consumer Price Index (CPI), or retail, inflation of four per cent within a range of two per cent in either direction.
The Finance Minister's remarks came on a day when rising inflationary pressure and concerns over "fiscal slippage" prompted the Indian central bank to maintain its key lending rates.
According to the Reserve Bank of India's fourth bi-monthly monetary policy review of 2017-18 announced in Mumbai on Wednesday, the repurchase rate, or the short-term lending rate for commercial banks on loans taken from it, has been maintained at six per cent.
"The decision of the MPC is consistent with a neutral stance of monetary policy in consonance with the objective of achieving the medium-term target for Consumer Price Index (CPI) inflation of four per cent… while supporting growth," RBI's fourth bi-monthly monetary policy statement for the current fiscal said.
According to latest official data, CPI inflation in August shot up to 3.36 per cent,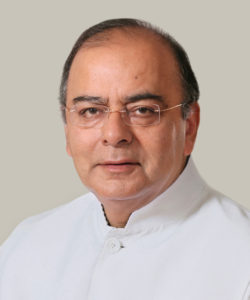 While core inflation in August rose to 4.6 per cent, high food and fuel prices pushed wholesale inflation at 3.24 per cent, to nearly double of that over the previous month.
Further, the RBI lowered the country's growth projection for 2017-18, pegging the Gross Value Added (GVA) at 6.7 per cent.
The central bank had earlier estimated India's GVA to grow in 2017-18 at 7.3 per cent.
One factor weighing on the RBI in lowering the growth outlook was the new Goods and Services Tax (GST)
"The implementation of the GST so far also appears to have had an adverse impact, rendering prospects for the manufacturing sector uncertain in the short term. This may further delay the revival of investment activity, which is already hampered by stressed balance sheets of banks and corporates," the statement said.
With regard to the impact of GST, Jaitley said that structural reforms involve a "transformation phase" and glitches that surfaced would be dealt with by the government.
"This phase of transformation involves things like when you switch from one system of indirect taxation to another, there will be an amount of de-stocking," he said.
"Whatever glitches there are in the system, it is the responsibility of decision-makers to be reactive and remove these," he added.
Meanwhile, in a reaction to the RBI's decision to maintain status quo on rates, the Finance Ministry said in a statement in New Delhi that: "We have noted that this decision has been made by the MPC in light of the underlying analysis which implies: (i) a downward revision of the real GVA growth forecast for 2017-18 from 7.3 percent to 6.7 percent, which leads to a widening of the output gap and (ii) a marginally upward revision of the CPI inflation forecast for the second half of the year." (IANS)