New Delhi– A day before the Economic Survey is tabled in Parliament, former Prime Minister Manmohan Singh on Monday released a document detailing the current scenario of the Indian economy, which he said was not in good shape.
While Singh cited the IMF which projected a 6.6 per cent economic growth in the current fiscal, former Finance Minister and senior Congress leader P. Chidambaram predicted the economy not growing at more than 6.5 per cent over 2017-18 and 2018-19.
On the social security schemes like MNREGA, Chidambaram even advised the government not to cut the expenditure in the budget.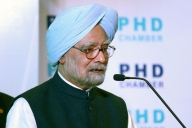 "As you know after demonetization, MNREGA demand has increased by 60 per cent. It is so because people lost jobs, people who are working elsewhere have gone back to their homes. The only safety net available in their villages is MNREGA.
"If they cut funds for MNREGA that would be a very cruel cut. If they cut funds for education or health that would be a very cruel cut. I hope the government will not commit the cardinal mistake of cutting funds," said Chidambaram.
Manmohan Singh, a former Governor of the RBI, has been critical of the Narendra Modi government's decision to demonetise Rs 1,000 and Rs 500 notes.
"Tomorrow is the day when the government will present its economic survey. We thought it a good idea that we should also bring out a document which sets out what we consider is the real state of the economy.
"So that the country as a whole has the ways and means of assessing where the economy is, where it is heading to and what can be done to bring on the right path," said Manmohan Singh unveiling the "Real State of Economy", prepared by the Congress.
"The Indian economy is not in good shape is now obvious. The IMF has projected that the growth rate of India this current fiscal year will not be 7.6 per cent but 6.6 percent. Several other agencies have made similar projections," said Manmohan Singh.
"I will not comment on those projections, it is for you assess what the truth is. This is a contribution to the ongoing debate on where are economy stands, where it is heading to and what is to be done to pull it in the right path," he added.
Chidambaram said the previous United Progressive Alliance government had delivered an average of 8.5 per cent growth in the first five years. "Over a 10 year period we delivered GDP growth averaging 7.5 per cent. UPA lifted 140 million people out of poverty. I think every government must try to emulate these achievements," he said.
The "Real State of Economy" highlights that the most crucial deficit facing India is job deficit.
"The BJP is hiding behind a GDP number which is being challenged. People aren't dazzled by it, but are asking where are the jobs," added Chidambaram.
"People are asking where is the new capital investment. Where are the businesses getting support? In the quarter July-September only 77,000 jobs were created out of which 50,000 were government," he added.
Chidambaram further said: "Capital formation is declining, credit growth is the lowest in several decades and yet if the government presents a very rosy picture of economy, I think people of India are entitled to seriously question that conclusion."
"Every government must be optimistic, the optimism must stem from realistic assessment of the situation. The NDA government tends to believe that the exaggerated version is exaggerated picture of economy," he added.
On the question of foreseeing any cut in social safety schemes like MNREGA and Mid-Day meal, Chidambaram said: "The assumptions behind the budget are as important as the policies that are enumerated. If the budget assumption is that the economy will grow at 7 or 7.5 per cent, that assumption will be plainly wrong."
"Going forward, we do not see the economy growing at more than 6.5 per cent over 2017-18 and 2018-19," he added.
Congress MP Rajeev Gowda, who was instrumental in preparing the document, said: "In 2010, 11 lakh new jobs were created. It has fallen to an abysmal 1.35 lakh jobs under the Modi government."
"New investment proposals have been dropping in last few years. Many startups have been forced to shut down because of poor policies of the government," he added.
He also pointed out that only a fraction of what should be spent on Swachh Bharat is being spent by the government. "How can it achieve anything?" he asked.
"Investment in Sarva Shiksha Abhiyan is falling. This can be seen in the school enrolment numbers," Gowda said. (IANS)