New York– It was the turn of Finance Minister Arun Jaitley now to counter the "one-eyed king" comment of Reserve Bank of India Governor Raghuram Rajan about the country's economy, saying a 7.5 percent growth for any other nation would be a "celebration".
"Compared to the rest of the world we are growing much faster, in fact the fastest. Compared to our own potential, we can do better. So at 7.5 percent growth, any other country in the world would be celebrating," the finance minister said.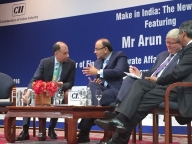 "It is a tribute to India's growth story that at 7.5 percent, we are still impatient because we know our potential is to do distinctively better and I see, as a couple of variables – if they work to our advantage, we can do much better," he said in an interview to CNBC TV18.
Jaitley was asked to comment on a statement made by Governor Rajan in Washington last week. Rajan was posed a query over the International Monetary Fund (IMF) calling India a "bright spot" in an otherwise gloomy global economy.
"I think we have still to get to a place where we feel satisfied. We have this saying — 'in the land of the blind, the one-eyed man is king'. We're a little bit that way," the central bank governor had said.
The comment from Rajan, who often shoots some eyebrow-raising one-liners, did not go down well with Indian ministers. First Commerce Minister Nirmala Sitharaman said she did not approve of his use of words followed by a response from Minister of State for Finance Jayant Sinha.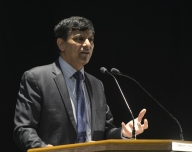 "I may not be happy with his choice of words. Whatever action is being taken by this government is showing results. Foreign direct investment is improving. There're clear signs manufacturing is reviving. Inflation, current account deficit is under control," Sitharaman said.
In sync, Sinha said: "We are the shinning star. I don't agree with what the governor said."
During the interview, Jaitley was also asked if his government intended to give Governor Rajan, whose term expires in September, an extension. "I don't think we discuss these matters in the media or publicly. It is not proper to make comments on this at all," Jaitley said.
But the finance minister did not deny the governor his due. "I think the Reserve Bank has done fairly well in the last year, year-and-a-half. It was confronted with a situation where you had near double-digit growth and that growth led to a situation of high interest rates," he said.
"Once the prices came under control, it was incumbent — and this was a national expectation — that the rates should go down. If you look at over the last year and a quarter or so, the Reserve Bank has brought down the rates by about 150 basis points," added Jaitley.
"I am sure if this trend of containing inflation continues, we can hope for a better interest rate regime which in turn will have a spiral effect on improving upon India's productivity and generate more activity." (IANS)