Mumbai–The RBI's decision to lower key lending rates and healthy inflows of foreign funds in capital markets pushed the Indian rupee to close at a new two-year high level of Rs 63.70 to a US dollar on Wednesday.
Besides, a smooth GST roll-out, expectations of subdued inflation and stable political environment buoyed the demand for the Indian currency.
The rupee closed at 63.70-71 against a US dollar from its previous close of Rs 64.07. The rupee last traded around the 63.70-mark in July 2015.
The Indian currency gained over 1.70 per cent to an intra-day high of Rs 63.60 to a US dollar.
However, likely market intervention by the RBI which bought US dollar through state-run public lenders is said to have stabilised the Indian rupee around the Rs 63.70-mark.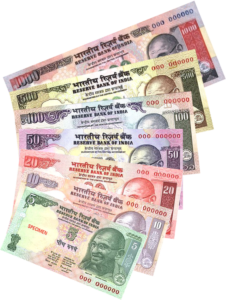 The RBI is seen comfortable with the rupee ranging anywhere between Rs 63-65 . Anything beyond or below this limit provokes the central bank to intervene by either buying or selling the greenback.
"Indian rupee has the fundamentals which a carry trader would kill for. We continue to remain bullish on the rupee and expect 63-63.30 on USD/INR spot over the next three to four weeks," Anindya Banerjee, Deputy Vice President for Currency and Interest Rates with Kotak Securities, told IANS.
"Risk to the view remains from equity markets. In case Indian equity markets, along with global equities, come under sustained selling pressure, Indian rupee can then see a temporary sell-off."
According to Hariprasad MP, Senior Vice President and Head Treasury at Centrum Direct, US dollar sales by a MNC bank and monetary policy review were the major contributory factors for rupee appreciation
"The announcement of 25 bps… as opposed to 50 bps as expected, the rupee depreciated initially, but then bounced back to 63.70 levels again," Hariprasad said.
"Since, it has breached such crucial levels, we can even expect for the rupee to reach 63.50 in the near-to-short term period. "