New Delhi–Indian government on Tuesday said that India has emerged as the third largest aviation market in the world with a passenger traffic of over 10 crore reported for 2016-17.
This was stated by Minister of State for Civil Aviation Jayant Sinha at a media event on the achievements of the Ministry of Civil Avation on the completion of three years of the NDA government.
Sinha said that government's key scheme in the sector — regional connectivity scheme (RCS-UDAN) — will allow India to have 200 plus airports in the next 10-15 years.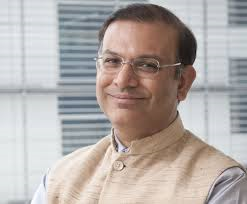 According to the Civil Aviation Minister Ashok Gajapathi Raju, his ministry has worked towards reshaping the aviation ecosystem for "affordable and convenient flying for everyone" by bringing in the National Civil Aviation Policy 2016.
On air fares, Raju pointed out that "average or median air fares" fell by 18 per cent during 2016-17 and that scheduled domestic flight movements rose from 7 lakh in 2014 to 8.2 lakh in 2016, an 8.2 per cent CAGR growth.
The minister added that there are currently 496 aircraft in operation with domestic airlines, and another 654 planes are under purchase orders.(IANS)