New Delhi– Finance Minister Arun Jaitley on Tuesday said India-US trade will get a boost from business-to-business, business-to-government and government-to-government interactions, in a context where new structural reforms like GST will boost growth and the overall development of the country.
"Foreign investment is important for India in order to have larger investment in infrastructure sector," Jaitley told members of the visiting US CEOs Forum, according to a Finance Ministry release here.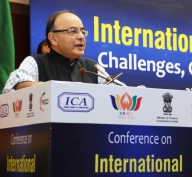 He also said the government "will now focus on increasing the banks' ability to support growth."
He said the recent passage by Parliament of the Goods and Services Tax (GST) Bill and the Bankruptcy Code along with other structural reforms made by the government in the last two years "will help in boosting the growth and the overall development of the country".
The members of the US CEOs Forum included Jim Taiclet, chairman of American Tower Corporation, Douglas L. Peterson, chief executive of S&P Global Inc. (formerly McGraw Hill Financial, Inc), Paul E. Jacobs, chairman of Qualcomm Incorporated, and Eric Alexander, Head of Business, Uber APAC.
Among other members of the Forum are Mukesh Aghi, President US-India Business Council (USIBC); Nivedita Mehra, country director India-USIBC; Sanjay Bhatnagar, President and CEO, Water Health International; Dinesh Paliwal, chairman and CEO, Harman International; and Amit Agarwal, vice president and country head, Amazon India.
Meanwhile, India and the US on Tuesday also began the economic leg of their Strategic and Commercial Dialogue, with Commerce Minister Nirmala Sitharaman asking America Inc to join the country's 'Make in India' initiative.
Sitharaman first met co-chair and US Secretary of Commerce Penny Pritzker, following which they presided over the India-US CEO Forum, that has Tata Sons Chairman Cyrus Mistry and Honeywell Chairman Dave Cote as the co-hosts.
The Forum discusses opportunities for increasing bilateral trade and investment, in which the CEOs will communicate their joint recommendations to the US and Indian governments. (IANS)