Dubai–An Emirates plane flying from Kerala with 275 people on board caught fire after landing here on Wednesday, leaving the passengers and crew shaken and many injured, witnesses and officials said.
A part of the engine of the Boeing 777 appeared to have fallen off after the violent landing at the Dubai International Airport, which was immediately shut for all landings and take-offs.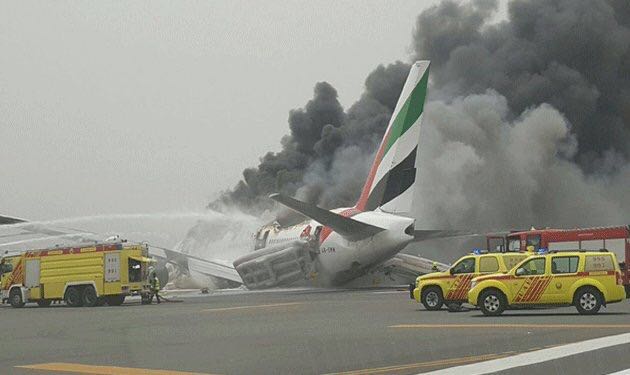 Huge columns of black smoke billowed from the aircraft, which sat on its belly on the runway.
Emirates said it was not aware what caused the accident.
The plane had taken off from Thiruvananthapuram at 10.19 a.m. and was to land at 12.50 p.m. at Dubai, the airline said.
"At this stage, we have no further information on what may have caused the accident. Our priority remains with the passengers and crew involved."
It said the accident would cause a four-hour network wide delay globally.
A passenger said the flight came down suddenly and then bounced upwards while landing.
"In no time the cabin was filled with smoke. There was no announcement. The emergency door was forced open," the passenger told Asianet television channel in Kerala on telephone.
"We believe all the passengers and crew have escaped. Many of us now feel we have breathing problems because of the smoke," said the passenger.
Another passenger said some of them had suffered minor injuries on their hands and legs.
After escaping through the emergency exits, the passengers sprinted away from the plane.
"Many of us were taken in a bus to one corner of the airport. Emirates officials are attending to our needs," he said.
Emirates said initially that all passengers were evacuated and there were no reported injuries.
But Dhanya Rajendran, who posted a photograph of the damaged plane, said a few passengers were injured.
Emergency vehicles rushed to the aircraft.
The aircraft involved in the accident was delivered in March 2003. (IANS)