Mumbai– A luxurious beach front villa in Goa owned by absconding liquor baron Vijay Mallya has been sold to Bollywood and South Indian film actor Sachiin Joshi, by a group of banks led by State Bank Of India, official sources said here on Saturday.
The property, known as the 'Kingfisher Villa', is situated on the picturesque Candolim Beach, a tourist hotspot.
It had earlier failed to attract buyers on three auction attempts by SBI Caps – which had taken over the possession of the villa – ostensibly since the reserve price wa between Rs 81-85 crore.
For the current sale, the reserve price was fixed at Rs 73 crore and the villa found a buyer in actor-cum-business baron, 33-year old Joshi, of the Mumbai-based Viiking Ventures Pvt. Ltd, said an SBI official who requested anonymity.
The property sale comprises a part of the recoveries due of the Rs 9,000-crore plus amounts including loan and interest outstanding from Mallya who is currently living in the UK since over a year.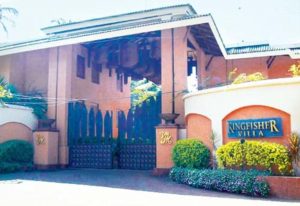 The Pune-based JMJ Group of Industries belongs to Jagdish Mohanlal Joshi while his son Sachiin owns the Viiking Ventures Pvt Ltd., headquartered in Andheri.
It is a media & entertainment conglomerate which has varied business interests in beverages including mineral waters and Goa strong beer, media, spas, hospitality and healthcare.
The Kingfisher Villa, reportedly worth around Rs 100 crore, is built on a three acre plot and comprises magnificent bedrooms, artificial ponds and private swimming pools, open air dance floors, lush green gardens with over a score of expensive cars dotting the landscape. (IANS)