By Vikas Datta

Will demonetisation, touted as a measure against black money, corruption and terror financing, successfully meet the objectives set for it by the Narendra Modi government?
Not really, if you listen to the man who imposed the earlier demonetisation in 1978.
Contending that there was no chance of ending black money "until we destroy the conditions which encourage it", eminent bureaucrat-turned-politician, H.M. Patel, who was Finance Minister in the Janata Party government, said that demonetisation only ended in inflicting "a great deal of hardship on a great many innocent people".
He termed the process "not worthwhile", a few years before he went on to impose demonetisation on the instructions of then Prime Minister Morarji Desai.
In an article in the October 1972 issue of Gujarati periodical "Nireekshak", Patel listed three contributing factors — igh tax rates, controls and corruption — to the growth of undisclosed money. He said that unless these were addressed, there was "little point in grappling with shadows".
On January 16, 1978, the Morarji Desai-led government demonetised the Rs 1,000, Rs 5,000 and Rs 10,000 currency notes which were largely held by the rich. An Ordinance was issued and the announcement made through All India Radio's 9 am news bulletin.
"Most people who have black money and who are involved in such operations rarely keep their ill-gotten gains in cash. They will have converted much of it into assets or even into white money. Only a small percentage of the total amount of what might have initially been black money is likely to exist in cash," Patel wrote.
Despite such strong views, why he did not object to the demonetisation is not clear. In his autobiography, the then Reserve Bank of India Governor I.G. Patel says he remonstrated with the Finance Minister when the latter told him of the decision by saying that most people in possession of black money rarely kept their ill-gotten gains in the form of currency for long. "Thinking that black money is stashed away under mattresses or suitcases is naive," I.G. Patel wrote.
But I.G. Patel does not record what H.M. Patel's reaction to his statement was. Eminent economist and former Union Minister Y.K. Alagh, then in the Planning Commisssion, recalls I.G. Patel telling Prime Minister Desai in Gujarati that it would not work as black money was held in land, gold and dollars and not in currency, while H.M. Patel, who was also present, only smiled away.
In his article in "Nireekshak", H.M. Patel said that demonetisation does not work had become more and more evident from the results of raids carried out during the past few years. "Not much cash was found during those searches, though some amount of evidence may have been found indicative of the existence on the premises of black money at some time and of its translation into assets or white money," he wrote.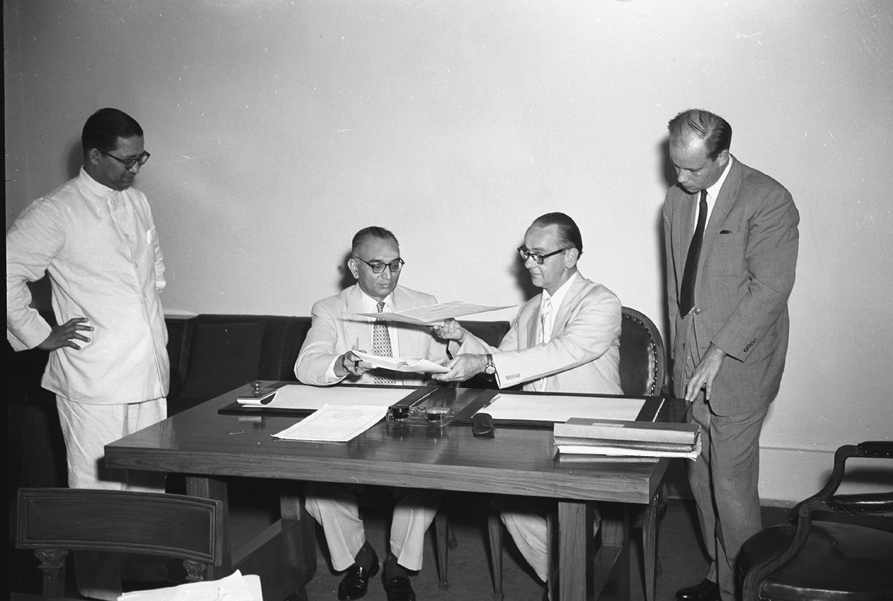 "This is perhaps the conclusive reason why demonetisation is not considered to be worthwhile. More so as demonetisation can be carried out only at heavy cost. After inflicting severe hardship on the vast majority of people, those who have indulged in black-market operations are unlikely to be found hoarding large sums of money in cash," wrote Patel.
Decades later, the situation was no different. A Finance Ministry White Paper in 2012 showed that for the period 2006-2012, cash seized during searches and seizures ranged from 3.75 to 7.3 per cent of total undisclosed income for those cases.
Despite his perspicacious words, wisdom seem to have eluded the Finance Minister when the time came to impose demonetisation. An Indian Civil Service officer, Patel rose to become Cabinet Secretary before turning 40, served as Partition Secretary and then went on to hold high posts in independent India, including Principal Secretary, Finance, before resigning from service after his name came up in a scam.
He subsequently joined politics, was Leader of Opposition during the Emergency and Finance and Home Minister in the Janata Party government.
Citing the country's huge volumes of cash transactions, he noted in the article that agriculture is not subject to income tax and "demonetised notes declared by farmers, large, medium and even small, will have to be accepted without question. Farmers may well help holders of black money to escape the net of 'demonetisers'".
The situation is no different now in Modi's demonetisation.
Noting that "a little thought should convince those who demand demonetisation so vociferously that it would not achieve anything, not even uncover hoards of black money or prevent its re-emergence", Patel said: "All that it would do for certain would be to inflict a great deal of hardship on a great many innocent people and to increase corruption immensely."
It was Spanish-American philosopher, George Santayana, who said that those who fail to learn from history are doomed to repeat it. The pain, though — then as now — is left to be borne by the common man. (IANS)