By Bhanupriya Rao

Padiganalam, Tamil Nadu–Married against her wishes at 11 to her dead sisters husband, Sidhamallamma Kanchappa gave birth to her first child at home when she was 12. It was 1998, the child nearly died, and the doctors at the hospital chided her for marrying so young.
That experience taught her the importance of women's reproductive health and control over their bodies. "I told my husband that I will not have another baby so soon," said Sidhamallamma, today a self-assured woman with a bright smile. "My second son was born eight years later."
So, when Sidhamallamma — from the Irula tribe, famed as snake catchers — was elected the president of the remote Padiganalam panchayat in Thally block of Tamil Nadu's North-western Krishnagiri district in 2011, she made women's health a priority. In this panchayat, situated among the craters of granite mines, early marriage, frequent pregnancies, anaemia and malnutrition are just some of the health issues that women are plagued with.
Sidhamallamma is one of 40 past and current women panchayat leaders we surveyed across six Tamil Nadu districts to analyse the impact of a quarter century of reservations for women in local bodies. We found a majority of women now work independently of the men in their lives and despite a series of hurdles that deny them access to finances, male-dominated political networks and limited powers, they had carved out distinct identities for themselves and overtaken men in building roads, providing drinking water and toilets, as the first part of this series explained.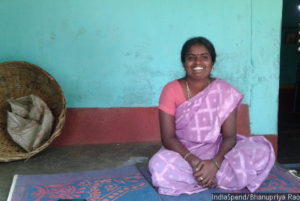 Tamil Nadu now has India's lowest fertility rate — lower than Australia, Finland and Belgium — second-best infant mortality and maternal mortality rate, and records among the lowest crime rates against women and children — but caste discrimination is entrenched and women in rural public office still face resistance from men. However, the rise of women panchayat leaders indicates the benefits that reservations for women bring.
"Women would have endless babies. They had no idea of contraception. In the beginning, I had to beg and plead them to get themselves operated after two kids," Sidhamallamma said as she took us around her village and indicated why anaemia is a major health concern for women in this block and Krishnagiri district as a whole.
More than half (55.1 per cent) the women between the ages of 15 and 49 in Tamil Nadu are anaemic, according to National Family Health Survey 2015-16 (NFHS-4) data, the latest available; 2.4 per cent women are severely anaemic (with haemoglobin count less than 7 grams per decilitre). In Krishnagiri district, 47.4 per cent of rural women between the ages of 15 and 49 were anaemic, 2.2 per cent were severely anaemic, NFHS-4 data revealed. This the second-lowest in the state, after Karur district in the central Tamil Nadu.
"See this girl here?" said Sidhamallamma, pointing to a 16-year-old, with a little sibling tucked under her arm. "I literally had to shout at her mother to get the operation (tubectomy) done. She had nine kids already."
Apart from ignorance, the women here are plagued by fear of surgical procedures in general and government hospitals in particular — especially the larger taluk (block) and district hospitals.
"The medical staff treat poor women like animals in the taluk general hospital at Denkanikottai," said Sidhamallamma. "When women scream during labour pains, the nurses hit them. They say, 'It was all pleasure then. Now you scream?' This is the reason women hate to go by themselves. I go with them because I can question the staff there."
The local health sub-centre (HSC) does not deal with deliveries in severely anaemic cases, and women have to be taken to the Denkanikottai, 20 km away, or to Hosur, about 40 km away.
Forested, hilly and with few surfaced roads, Thally is hard for government health professionals to access.
"Sometimes we have to walk several kilometres because even our jeeps won't reach there," said Keshav Raj of the Association for Rural Community Development (ARCOD), the monitoring partner for Unicef's ante- and prenatal-care project, which monitors women's reproductive health in 36 of the most vulnerable villages in Thally and neighbouring Kelamangalam block.
"The bigger problem is the absentee Village Health Nurses (VHNs), who refuse to stay in these kinds of difficult areas for very long," said Sacharita (she uses only one name), Thally's Block Health Officer. In the 36 most vulnerable villages that ARCOD monitors, 11 of 17 HSCs do not have a nurse.
This is true of Accredited Social Health Activists (ASHAs), who serve no more than 23 per cent of Tamil Nadu, according to District Level Household and Facility Survey, 2012-13, data. In comparison, ASHAs are available in greater proportions in Andhra Pradesh (91.7 per cent), Karnataka (96.1 per cent) and Kerala (94.4 per cent). In Krishnagiri, 23.8 per cent of villages are served by ASHAs.
It was the paucity of ASHAs in Padiganalam that prompted Sidhamallamma to get herself trained as a health worker in 2014.
"I tell women that they should eat greens, especially drumstick leaves and jaggery, to improve their blood (haemoglobin). When I had my first child at 12, my haemoglobin level was less than five (grams per decilitre). So I know the pain first hand," she added.
As a panchayat president, she is quite limited by the powers she has to influence healthcare delivery beyond awareness-building and persuasion. The Tamil Nadu Health Department's guidelines limit the role of panchayats to create awareness and ensure proper sanitation in villages in their devolution of powers. The panchayats neither have the funds nor the authority to either demand for a HSC or a VHN.
If there is one challenge she has not been able to overcome in her term as a panchayat president, it is building and use of public and individual household toilets.
"The government is giving money to build toilets under Swachh Bharat but there is a problem," said Sidhamallamma. "People don't have land in their houses to build toilets. And then, people have to put in their own money, which the government pays back."
Sidhamallamma knows it is not easy to change traditional attitudes. But she would like to try. In 2017, she will stand for re-election-although her constituency is now a general constituency with no reservation for women. (IANS)