CAMBRIDGE, MA—HHM, formerly known as Hersha Hospitality Management that operates 115 hotels across the United States, announced that it now owns and manages the Best Western Tria in Cambridge, MA, further expanding its private-investment platform and management footprint in the dynamic Boston market, HHM said in a statement.
The company plans to extensively renovate the 121-room property, with upgrades to the guestrooms, public areas and exterior façade that represent the style and vibrancy of the Cambridge community.

The Best Western Tria marks HHM's eighth hotel in the Boston area, including the Boxer in the historic North End, the Courtyard Brookline, and the nearby Holiday Inn Express Cambridge. The newly acquired hotel was fully rebuilt in 2009 and now includes a Starbucks and an upgraded fitness center.
HHM's acquisition was led by Shawn Tuli, Vice President of Acquisitions and Development, who grew up as a Cambridge local and is also an alumnus from nearby Harvard Business School.
"We are very excited to make an investment and further expand our roots in the Boston area, and have comprehensive plans to position this hotel to be a critical part of West Cambridge's cultural fabric," said Shawn Tuli. "On a personal level, I am overjoyed to be a part of a project that will offer improved amenities to a community that has given so much to me."
The hotel is located in the Alewife neighborhood of West Cambridge and is close to Harvard University, MIT, Tufts, Boston University and Lesley University. West Cambridge has extremely high barriers to entry, and exhibits attractive residential, retail, and office characteristics with reputable tenants such as Forrester Research, headquartered a short distance from the hotel. The hotel is also in close proximity to Boston's prominent red line, providing easy access to the city's most trafficked locations such as Harvard Square, Boston Common, and South Station.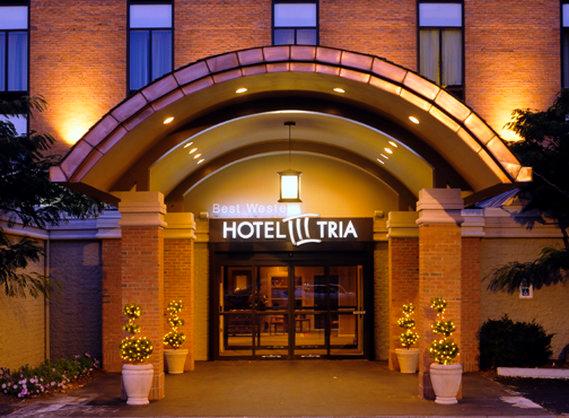 "We are thrilled to expand our investment platform into the Boston market and to be a part of Cambridge's thriving market," said HHM CEO Naveen Kakarla. "We look forward to developing unique programming throughout the hotel, which will appeal to locals, support the community and provide travelers with an authentic experience."
The acquisition of the Best Western Tria comes shortly after HHM's recent acquisition of the Residence Inn Philadelphia Conshohocken. The company also recently expanded its management and private investment portfolios in Florida, where in the past six months it assumed management of the Hilton Daytona Beach Resort and acquired the Sheraton Miami Airport Hotel and Executive Meeting Center.
HHM, formerly known as Hersha Hospitality Management, operates 115 hotels across the United States. Headquartered in Philadelphia, PA, the company has a private investment platform and engages in hotel acquisitions, management, asset management, and receivership for full-service and select service in top 25 markets. HHM also operates 28 independent hotels ranging from The Rittenhouse Hotel, a AAA Five Diamond property in Philadelphia, to the Larkspur Landing hotels, all-suite extended stay properties in Northern California and the Pacific Northwest.