By Alvin Powell
The Harvard Gazette
A crowd of college, high school, and elementary school students demanded action on climate change Friday, adding close to 1,000 voices to a massive daylong global protest by children and young people over the inadequate response by world leaders to the quickly worsening crisis.
"At this moment, it doesn't seem that a lot of people in the country who are over 25 take this seriously — or even believe it," said Lamisha Khan, a senior at Cambridge Rindge and Latin, who said she walked out with around 70 other students from the school. "This is New England, and someone is holding a sign saying, 'My kids may not see snow.' "
The late morning rally on Harvard's Science Center Plaza featured speeches and chants by a range of participants, from a former U.S. Environmental Protection Agency [EPA] administrator to Cambridge civic leaders to Harvard faculty and students to Cambridge Rindge and Latin students. Even elementary students from Cambridge's Vassal Lane Upper School got on stage, leading a call and response that began, "Kids against…" to which the crowd responded, "…climate change!"
Speakers said the day marked only the beginning of a push by the planet's youth and their adult allies to take control of the climate problem and force those in positions of power to take notice and take action. Several in the crowd said the show of strength gave them hope that meaningful change is possible.
"I see a lot of hope in being here," said Harvard sophomore Rebecca Thrope. "When I was standing here 15 minutes before the rally began, it [the crowd] was really sparse. Then three giant groups all came; they walked out of class and missed school to be here."
Speakers conjured up images of rising seas and a dying planet. They recalled hurricane Dorian's catastrophic hit on the Bahamas as a sign of things to come and criticized those who continue to deny climate science. They also warned of rising frequencies of mosquito borne ailments, like West Nile virus and eastern equine encephalitis, and said that social justice should be a key factor in solutions to the problem.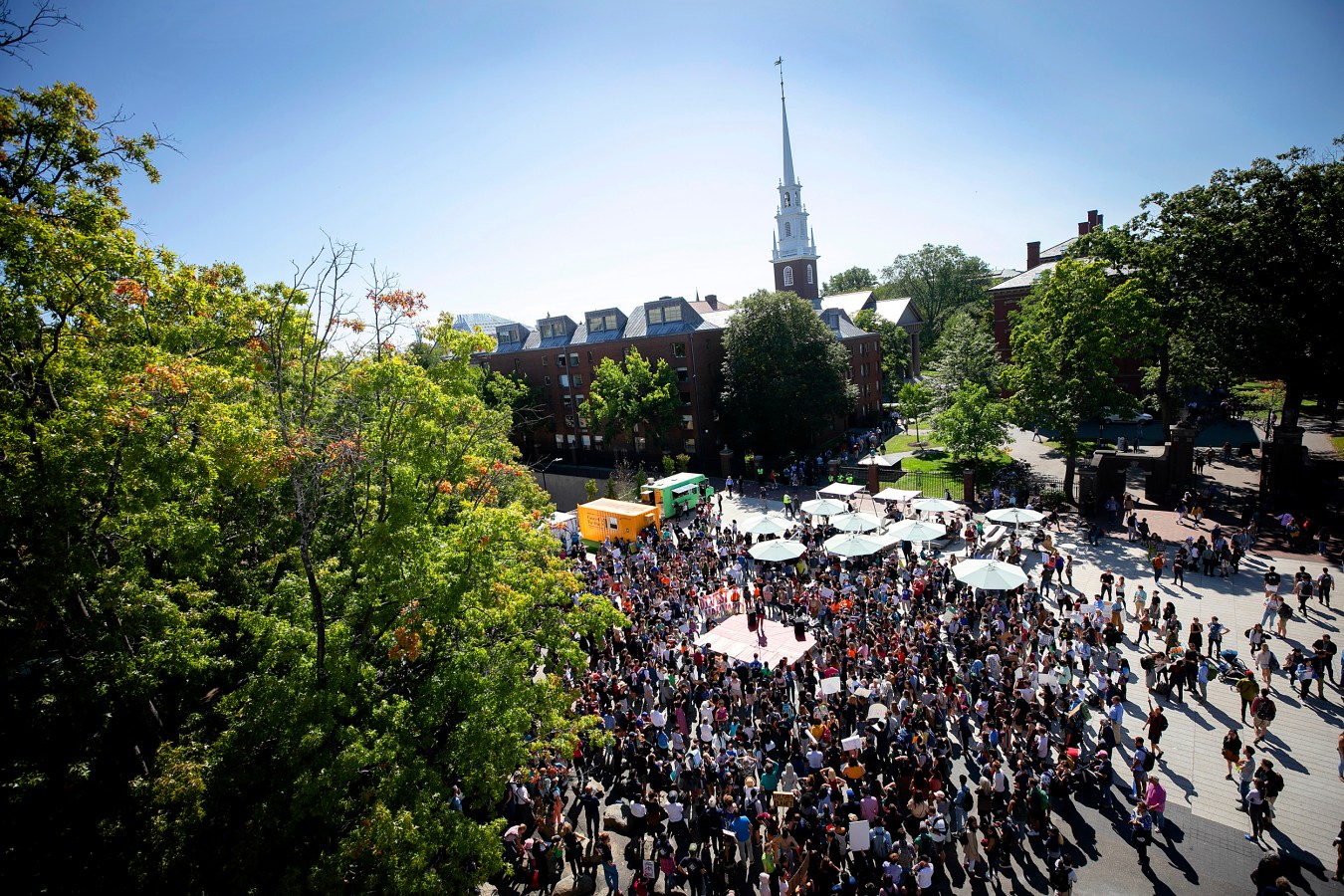 "Climate affects everyone, but not everyone equally," said Saul Levin, a student at the Harvard Graduate School of Design and member of the group Organizers for Radical Climate Action.
Several speakers called on Harvard to divest its endowment of investments in fossil fuel companies, saying that failing to do so makes Harvard complicit in the damage being caused by climate change.
Harvard President Larry Bacow addressed the issue recently in a Harvard Gazette piece, noting that continuing to engage with the fossil-fuel industry over climate change will bear more fruit than divestment. But debate over the issue, he wrote, is "healthy" and "will no doubt continue at Harvard and beyond."
 The protest was put together as part of Friday's Global Climate Strike. Teenage activist Greta Thunberg of Sweden, one of the organizers, estimated on Tuesday that there would be at least 4,600 events held in about 140 countries, an unprecedented mustering of young people anxious about life on a hotter planet and angered by the lack of urgency among adult leaders.
The hourlong rally served as something of a warmup for the larger Climate Strike in Boston and many protesters left Harvard's campus to head to City Hall Plaza, where the Boston rally was to begin before moving to the nearby State House on Boston Common.
Gina McCarthy, EPA administrator under President Obama and director of the Harvard T.H. Chan School of Public Health's Center for Climate, Health and the Global Environment, was among the Harvard rally speakers. She fired up the crowd, saying real strength comes from their standing together and urging them to do more than chant slogans and to get to work.
"I get up every morning, and I'm pissed off for two minutes, then I get over it," McCarthy said. "We can make this challenge happen; we can take climate action into our own hands. We don't need the federal government; we need ourselves."
McCarthy decried those who deny the facts of climate change, are blind to inequalities of climate change's effects, and leaders who fail to lead on the issue.
"You deserve better leadership — vote for it," McCarthy said. "Events are great, but what you do tomorrow is what matters."
(Reprinted with permission from the Harvard Gazette.)